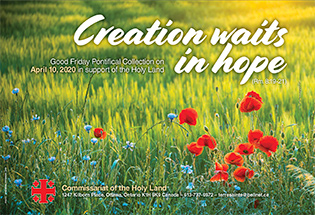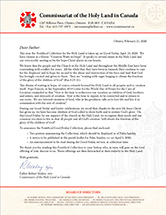 This year the Pontifical Collection for the Holy Land is taken up on Good Friday, April 10, 2020.
We have chosen as a theme: "Creation Waits in Hope". It speaks to several issues in the Holy Land and our own world, uniting us by the hope Christ places in our hearts.
We know that the people and the Church in the Holy Land and throughout the Middle East have been contending with conflict for years. All the while that they have been in turmoil, they continue to care for the displaced and to hope for an end to the abuse and destruction of the lives and land that God has lovingly created and given to them. They are "waiting with eager longing to obtain the freedom of the glory of the children of God" (Rm 8:19-21).
Download the poster and flyer in PDF format below: