You can deepen your understanding of the Christians and their communities in Holy land. The Commissariat gives you several possibilities to foster your consciousness and to facilitate your actions of solidarity.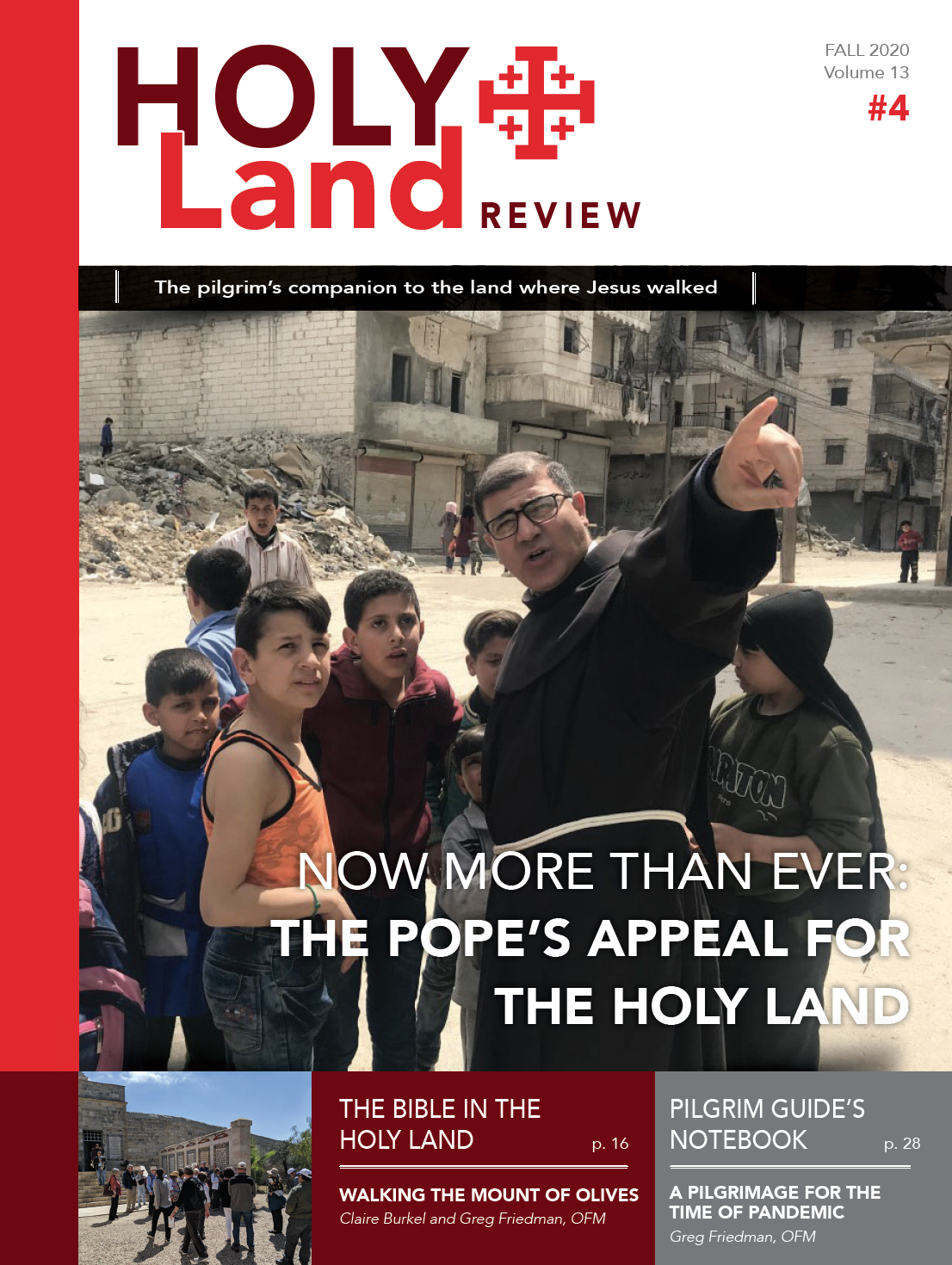 The Holy Land Review
Support this magazine that opens up sweeping vistas on the Holy Land of our times: current events and societal issues, spirituality, ecumenism, portraits of committed witnesses; photo journalism in places both strange and remote… Through The Holy Land Review you stay in touch year round with the Christians of the Middle East: getting to know them better is already a form of support. To obtain additional information and subscribe, call or contact the Commissariat in Washington (410.740.5009). Click here for more information. 
Donations for the Needs of the Holy Land
Many people support the Holy Land financially by contributing to their parish's Good Friday Holy Land collections; however, supporting the works of the Holy Land through donations is possible at any time, the needs are always great and your gifts are always appreciated.  It is possible to give in several ways:
Online, by going to Canada Helps which automatically issues a tax receipt;
By cheque or money order made payable to: Commissariat of the Holy Land. Donations should simply indicate "for the needs of the Holy Land," and be sent to:
Commissariat of the Holy Land
96 Empress Avenue
Ottawa, ON K1R 7G3
Donations over $20 will be issued with a tax receipt, at the end of the year.
Mini-Projects
In addition to the Good Friday Collection, donors can support specific projects recommended by the Commissariat. We recommend for the current year the following projects… When donating, specify the project to which you wish to direct your financial support. 
MASSES IN THE HOLY LAND
The Holy Land Commissariat receives the offering of masses celebrated in the Holy Places of the Holy Land. Simply send the particular intention and the prescribed offering ($15.00).
AFFILIATIONS
The affiliation to the works of the Holy Land offers to benefactors the opportunity of sharing the spiritual fruits resulting from the Eucharistic celebration, the prayers and the apostolic work accomplished by the Franciscans and by the Christians inhabiting the Holy Places and the Faithful who, guided by the Holy Spirit, go there to venerate.
An affiliation is a communion in faith between the Christians who support the works through their donations and the members of communities devoted to the works of the Holy Land. Both donors and community members partake in the fruitfulness of a spiritual family and its ecclesial mission. Each affiliation is attested by a diploma or a special card that is sent to you to be forwarded to the affiliated person or family.